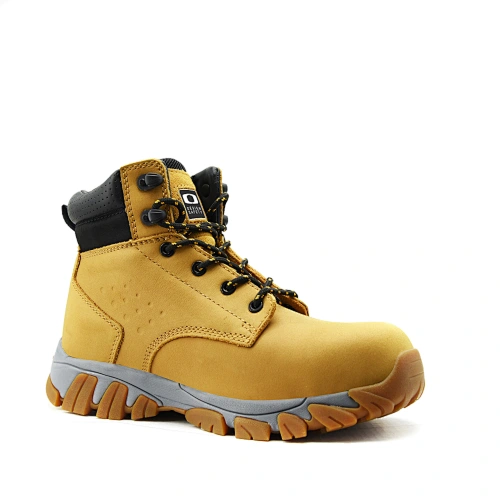 Lace-Up Non metallic Nubuck Safety Boots S3 SRC
● Honey Nubuck Leather Upper

● Breathable Mesh Lining

● Comfortable PU Form Insock

● EVA/RUBBER Cemented Outsole

● 200J Composite Toe Cap

● 1100N Anti-penetration Composite Midsole

● Conform to EN20345:2011 S3 SRC
PRODUCT DESCRIPTION       

The Lace-Up safety boots are made from high quality honey nubuck leather upper. 

It has a 100% non metallic construction and features a slender, ultra strong fibreglass toecap and composite midsole which allows the foot the flex and move freely.

It includes cloured 3D mesh, which is breathable.

The outsole is a nitrile rubber outsole which offers unbelievable abrasion resistance whilst providing exceptional shock absorption and weight reduction, and heat resistant(HRO).

Comfortable PU Form insock gives you all-day comfort.The non-metallic design makes these boots ideal for use in areas where metal is not allowed.
With a S3 SRC rating, they provide excellent protection against accidents and hazards. 
FEATURES 
      

 Water

 Repellent         

Upper

 Shock   

 Absorbant    

Anti-Slip        

 

HRO

      

100% Non- Metallic