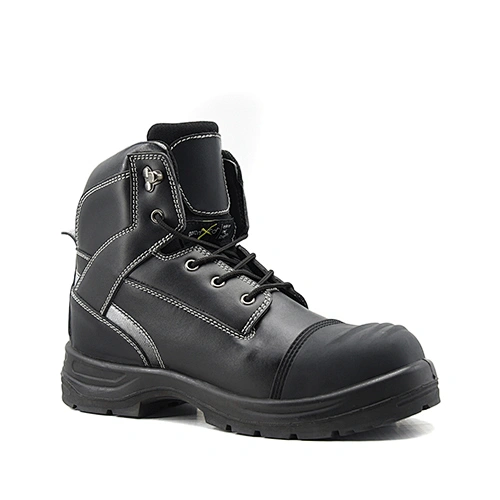 Full grain Leather Water Resistant Safety Boots S3 HI CI WR M HRO SRC
● Leather Upper & TPU At Toe Part

● Comfortable EVA Coated Mesh Insock

● PU/RUBBER Injection (HRO 300°C) Outsole

● 200J Composite Toe Cap

● 1100N Anti-Penetration Composite Midsole

● Water Resistant & Metatarsal Impact Protection Made With Poron XRD Technology&Thinsulate

● Conform to EN ISO20345:2011 S3 HI CI WR M HRO SRC
PRODUCT DESCRIPTION       

                                                                                            
Our black Full Grain Leather Water Resistant Safety Boots are designed to protect your feet from various hazards in different work environments.
Made with middle cut, high-quality, full-grain leather, these boots are both durable and comfortable to wear, providing long-lasting protection for your feet.
The boots are rated S3 for protection from mechanical risks, HI for heat insulation, and WR for water resistance, Metatarsal Impact Protection Made With Poron XRD Technology&Thinsulate.This makes them ideal for outdoor work environments or wet surfaces where safety is a top priority.
The boots are equipped with SRC slip resistance, meaning they pass the certification for resistance to slipping on ceramic and steel surfaces.
The HRO feature of the boots also means that they can withstand high temperatures up to 300°C.
The boots offer comprehensive protection for your feet, including a midsole that is made of lightweight composite material that meets up to EN 12568:2010 safety
standards. This makes them a popular choice for professionals in a variety of fields, including construction, agriculture, and maintenance work.




FEATURES      

                                                                                                                  
 Protect

 Toe Cap

 Shock

 Absorbant

Anti-Slip
Oil Resistant

 Penetration

 Resistant

  HRO