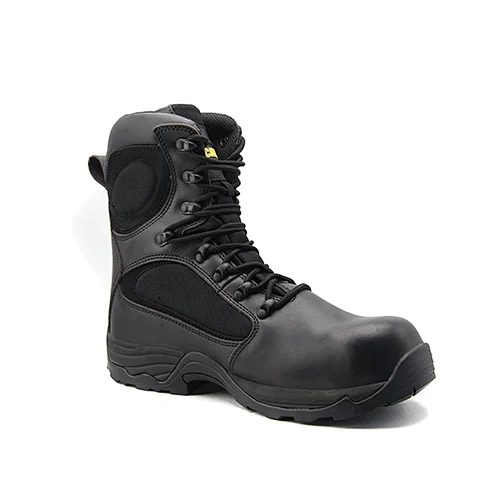 Leather Breathable Comfortable Waterproof Work Safety Boots
● 200J Steel Toe Cap

● Leather

● Puncture Resistant Kevlar Midsole

● EVA/RB Cemented Outsole

● Steel Plate
Made from a combination of leather and textile, this work safety boots are durable construction to resist wear and tear and withstand heavy use.
These boots help low friction with an protective lining to help reduce heat and blistering.                                                                                                                                                                                                                                                                             
Developed with the traditional round toe and 8-inch high cut design, these boots boast a classic shape while offering optimal ankle support. It will grant your feet the protection it needs against harmful elements.                                                                                                                                                                                                                                                                                                                     
These leather boots are comfortable and great for both the combat pro and the beginning hunter.                                                                                                                                                                                                                                                                         
Whether you're looking for a solid pair of hunting boots, hiking boots, yard work boots, or combat boots, these boots are sure to help!                                                                                                                                                                                                
TECHNICAL DESCRIPTION 
●Light Weight 

●Steel Toe Cap 

●Steel Plate 
●Anti-Shock                                                                                                                                                                                               
●Slip Resistant Sole
●Wear-Resistant Outsole
FEATURES 
Light
Weight
Protective
Toe Cap

Penetration

Resistant

Breathable
Shock
Absorbant

Abrasion

Resistant